To promote understanding, appreciation, and conservation of reptiles and amphibians, to encourage respect for their habitats, and to foster responsible captive care.

The Dallas-Fort Worth Herpetological Society is a 501(c)3 non-profit society. Membership is open to anyone with an interest in reptiles and amphibians ("herpetofauna" or "herps"). Our members include professional biologists and amateur naturalists with years of experience, as well as those with a beginning interest in herps (either keeping and breeding them, or seeing them in the wild).
Our society provides a number of services for members and for the community. Speakers at DFWHS meetings provide informative programs, and we network together to exchange experiences or get together for field trips. We provide educational events for the community in conjunction with museums and nature centers. The society has helped survey the herps found in two DFW area nature centers. We regularly go on field trips to various places in Texas, photographing and documenting reptiles and amphibians and sharing the data with universities, Texas Parks & Wildlife Department, the National Park Service, etc. Our newsletter (now a quarterly journal) the Cross Timbers Herpetologist, is widely praised for its original articles and photos.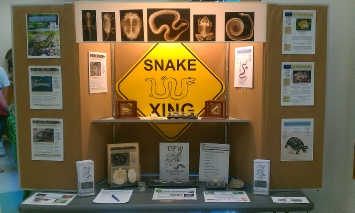 Part of a DFWHS education display
The first annual Reptile & Amphibian Day was provided by DFWHS on 10/13/12
The society was formed at the beginning of the year 2000 and has been continuously active since that time. As an all-volunteer society, members are our strength, donating countless hours of work toward education, conservation, and enjoyment of reptiles and amphibians.
Contact the society by email at: contact@dfwherp.org
Our phone number enables you to leave a message for us - just call (972) 949-4191
Our mailing address: DFW Herpetological Society
P.O. Box 151721
Arlington, TX 76015
Current Officers and their email addresses: